The Challenge
Like many cities around the world, Los Angeles is already experiencing the impacts of climate change first hand. In order to align with state and regional climate goals, the city of Los Angeles is taking steps to help residents adapt and become more resilient in the face of these changes, while simultaneously mitigating greenhouse gas (GHG) emissions through targeted policies, such as building decarbonization.
Urban climate policies and plans can, however, have unintended negative consequences if they do not take into consideration existing social and environmental inequities and their root cases. This participatory case study project evaluates ongoing efforts to institutionalize social equity considerations into urban climate governance in Los Angeles through the newly created Climate Emergency Mobilization Office.
The Solution
In Jan. 2021, the city of Los Angeles established the Climate Emergency Mobilization Office (CEMO) in response to demands by local environmental justice organizations for increased procedural and representational justice in planning and policy-making processes.
Tasked with engaging with frontline communities to help better inform climate decisions, CEMO represents an experiment in equitable urban climate governance. In its first year of operation, CEMO launched Climate Equity LA (CELA), a series of virtual public workshops on a variety of priority policy areas identified in consultation with community leaders.
In addition to this broad public engagement, CEMO funded community-led focus groups with frontline communities in order to hear directly from them about their needs, concerns and hopes related to climate change. At the end of the first year, CEMO hosted a two-day reflection and visioning meeting with key stakeholders and community partners to discuss opportunities for growth in the coming year.
As a participant-researcher, French has worked closely with CEMO for the past 10 months, conducting policy research, analyzing data gathered during public events, and actively participating in discussions about the mission, goals and tactics of the office. She also conducted a number of semi-structured interviews with individuals who have been working closely with the office in order to learn more about the factors leading to its creation, how CEMO fits into existing institutional structures and its transformative potential.
Findings
In recent years the city of Los Angeles has sought to institutionalize equity into climate governance through four key mechanisms: language, policy, process and organizational structure.
Multiple visions of climate equity are being articulated and contested within the city through policy documents and broader narratives. 
Community-based organizations play a vital role in supporting and carrying out direct engagement with frontline communities.
A number of social, political and institutional barriers continue to hinder the institutionalization of equity in urban climate governance in Los Angeles, including lack of trust, persistence of power imbalances and mismatched timelines.
Next Steps
The findings and takeaways of the Climate Equity LA Series are being compiled into a summary report, which will be shared with the Los Angeles City Council and used to inform the CEMO's approach going forward.
In addition, a policy report is being developed to summarize the findings from the Building Decarbonization Workshops Series, and to present a list of recommendations to help ensure that future policy is equitable. The policy report is being developed in close collaboration with community partner organizations and will be presented to the Climate Emergency Mobilization Commission (CEMC) in August. The CEMC will use the report to advise the city council on how to proceed with regards to developing and implementing a building decarbonization policy for existing buildings.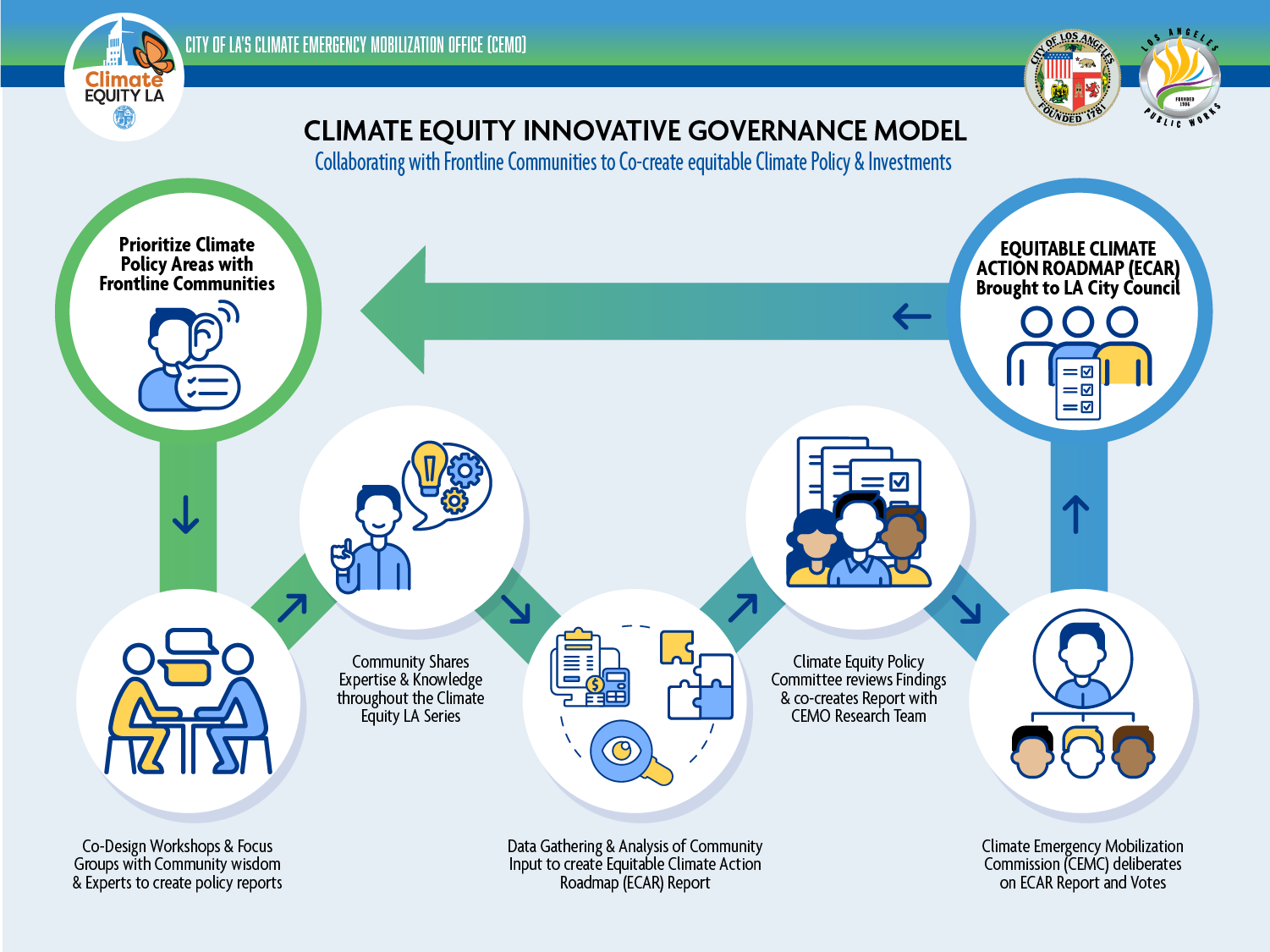 Fellow
Emma French
PhD student, Urban Planning
Mentor
Liz Koslov
Assistant Professor, UCLA Department of Urban Planning and Institute of the Environment and Sustainability
Partner(s)
Climate Emergency Mobilization Office
Liberty Hill Foundation
External Mentor
Marta Segura
Climate Mobilization Director
Chief Heat Officer