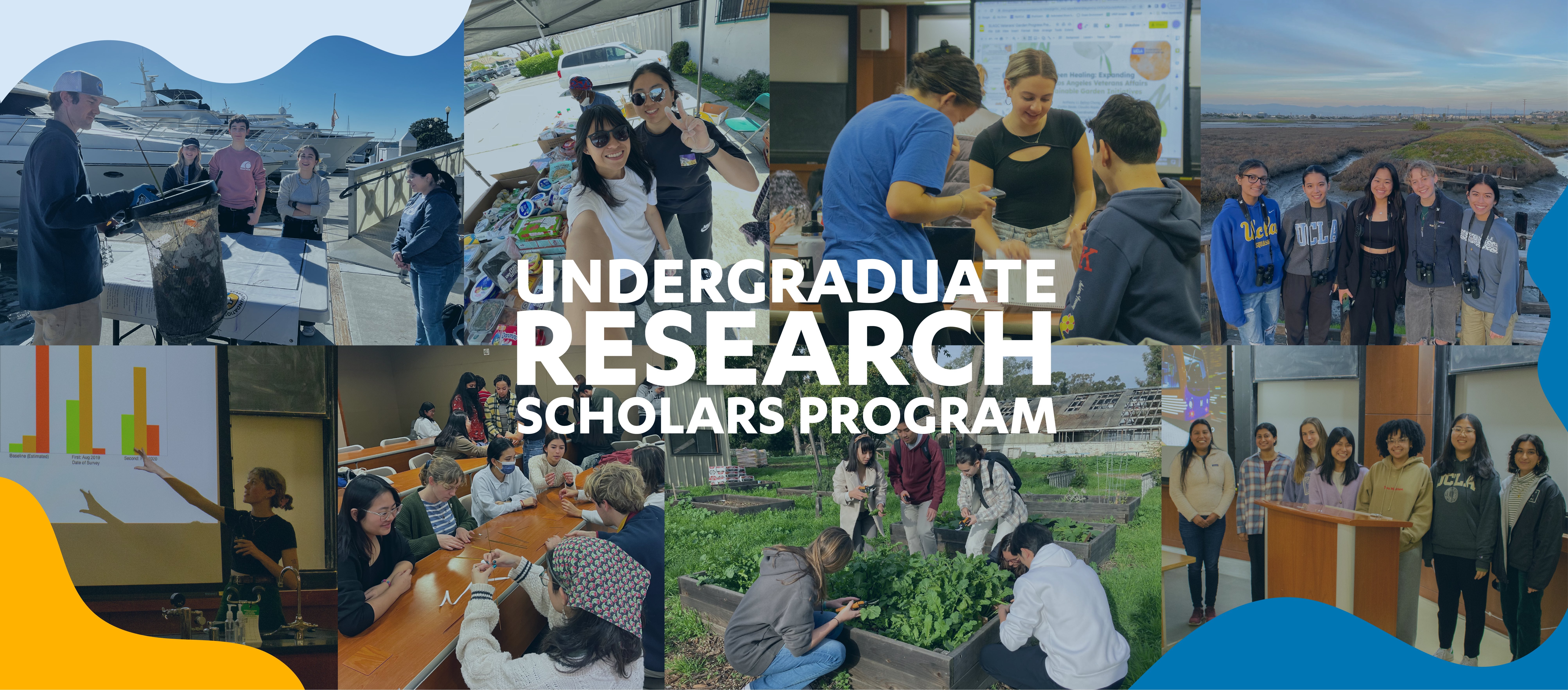 Founded in 2014, the Undergraduate Research Scholars Program (URSP) is the signature undergraduate course of the Sustainable LA Grand Challenge.
URSP unites undergraduate students across all disciplines in their first research experiences in the field of urban sustainability. The program is designed to intervene early to expose students to urban sustainability challenges and the interdisciplinary research approaches necessary to overcome these complex problems.
URSP's mission is to give students experience in solving real-world problems. The work done in this class makes an impact on UCLA's campus and across Los Angeles.
During the program, students participate in three program components:
Integrated interdisciplinary group work
Faculty-mentored independent research experiences
Weekly program meetings to develop career, professional and research skills and increase exposure to sustainability professionals and research.
In the Academic Year 2023-24, the URSP program is generously funded by Liquid I.V., which is an impact-driven company committed to equitable access to clean and abundant water for a healthier world.
Apply Now to the Undergraduate Research Scholars Program

Now in its 9th year (2022-23), URSP has trained approximately
318 students from more than
52 majors, and has matched them with
61 upperclassmen project consultants and
89 different faculty in
35 departments at UCLA.
An interdisciplinary cohort, scholars come from across campus, representing majors such as:
Aerospace engineering, anthropology, dance, design media art, biology, Chicana/o studies, climate science, communication studies, economics, English literature, neuroscience, political science, public affairs, and more!

These scholars are guided by a diverse, cross-campus intersection of faculty members from a cross section of disciplines including, but not limited to:
Art, business management, civil and environmental engineering, design, community and environmental health sciences, economics, evolutionary biology, geography, management, psychology, and urban planning.

Research and group projects by these scholars bring real-world impact to myriad sectors of the UCLA campus and to an increasing roster of external partners.
URSP student groups have worked closely with campus partners including Basic Needs, Community Programs, Counterforce Lab, Housing and Hospitality, Trademarks and Licensing, Sustainability and Transportation.
Within the Greater Los Angeles community, scholar groups have worked with Alumina Energy, California State Parks, City of Los Angeles, Colina Glen Homeowners Association, East Yard Communities for Environmental Justice, Friends of Ballona Wetlands, National Park Service (Santa Monica Mountains), River LA and the Westwood community.
Creating the next generation of leaders
URSP alumni form a deep bond with their peers and a burgeoning network of like-minded scholars entering the professional world. They have noted significant increases in both personal and professional (research, teamwork and networking) skills, gained through the program:
Personal Skills: time management, intellectual curiosity, decision-making ability, independent problem-solving ability, interdisciplinary mindset to approaching problems, and understanding urban sustainability challenges.
Research-related skills: ability to find relevant references, ability to evaluate scholarly findings, ability to collect relevant data, ability to analyze data, written communication skills and verbal communication skills.
Teamwork skills: ability to solve problems as a team, comfort working in groups, interpersonal communication, ability to resolve conflict, and leadership skills.
Networking skills: to succeed in jobs and graduate school, career development.
Alumni have appreciated the interdisciplinary connections formed through the program, specifically with professors, professionals and with their peer URSP scholars. Many are grateful the connections that were made have been sustained even after the program.
URSP sets students down a path to be lifelong advocates for sustainability issues as part of an ever-broadening network of alumni professionals. We are building the future leaders of tomorrow who will solve our most urgent climate-related issues, one cohort at a time.