The Challenge
Los Angeles County is the largest county in the nation with a population of approximately 10 million people. By 2050, the county is projected to have a 15% increase in population, adding 1.5 million more residents. With projected urban population growth alongside the effects of climate change, providing Angelenos with reliable energy, water and an environment that will enhance their health will be a challenge. The UCLA Sustainable LA Grand Challenge (SLA GC) was developed to address these problems and ultimately transition Los Angeles County to 100% renewable energy, 100% locally sourced water, and enhanced ecosystem and human health by 2050. In response to SLA GC's original goals, The NOW Institute research team undertook a first-round assessment of where the county stands today and what can be done to achieve those targets by 2050.
The Solution
The Now Institute is an urban research center at UCLA Architecture and Urban Design. Led by Founder Thom Mayne and Director Eui-Sung Yi, The Now Institute research team conducted a macroscopic analysis to address and conceptualize the sustainability goals laid out by SLA GC in light of a growing population. First, the team evaluated the energy, water and ecosystem health challenges within Los Angeles County's specific context and presented a variety of strategies to achieve the 2050 targets. Second, they analyzed the viability of different urban growth scenarios, with a full demonstration study of a scenario that preserves 99% of the county's land by densifying only 1% of the land, and measured the impact of densification on future sustainability. As a result of this research, two publications exploring a sustainable future for Los Angeles County were produced. These publications mark the first visual attempt at imagining what the futuremight look like in the nation's largest county.
Results
100% renewable energy is achievable in Los Angeles County through increasing building efficiency and harnessing solar power. For instance, 46 out of 88 cities within thecounty are solar net positive, meaning the rooftops can produce more electricity than is currently consumed annually. Covering all compatible rooftops with solar panels would increase the renewable energy supply by 25%.
To achieve 100% locally sourced water, Los Angeles County must pursue a combination of the following strategies in addition to native landscaping and reducing residential water use. For example:

Recycling about 8 times as much water as it does today will result in 67% local water
Converting one more inch of stormwater to usable water will result in 47% local water
Desalting just 1/6 of the 600,000 acre-feet of groundwater will result in 42% local water

Increasing green space to sustain biodiversity increases human wellbeing as well. Los Angeles County needs to increase the number of parks by 2.5 times compared to the number existing today to increase access and ensure everyone in the county lives within ¼ mile of a park.
Los Angeles County can accommodate the anticipated 1.5-million-person population increase by 2050 with just 1% of the county's land. By densifying just 1% of the county along the Wilshire Corridor, 99% of the county's classic urban texture and natural landscapes can be preserved. This corridor, enriched by a projected addition of the Purple Line Metro will be capable of fully housing 10% of the county's population. This would in turn encourage public transit use and reduce per capita energy and water use.
Next Steps
Thom Mayne, Founder of The NOW Institute, presented the two publications resulting from this study during a panel discussion with state and regional leaders focused on visions for a sustainable future for Los Angeles at UCLA's Earth Now: Earth 2050 symposium in 2016.
The Now Institute research team envisions their findings will guide lifestyle and cultural changes, inform future policies and decision-making processes at the county level and also serve as an important test case or model of assessment for other megacities in the world.
Additional Outcomes to Date
Recommendations from the research were adopted in the 2019 OurCounty Sustainability Plan. OurCounty is a regional sustainability plan for Los Angeles County developed by the Los Angeles County Chief Sustainability Office and an interdisciplinary team of consultants including UCLA researchers. Specific OurCounty targets and goals that are most related to the study findings include:
Goal 2: Buildings and infrastructure that support human health and resilience

Strategy 2B, 2045 Target: 100% major building renovations to be net zero carbon
Strategy 2C, 2045 Target: Source 80% of water locally

Goal 5: Thriving ecosystems, habitats and biodiversity

Strategy 5A, 2035 Target: Increase the percentage of protected wildlife corridors to 100%

Goal 6: Accessible parks, beaches, recreational waters..., and cultural activities

Strategy 6A, 2045 Target: Increase to 85% the proportion of residents within half a mile of parks and open space
Publications and Reports
Mayne, T., Yi, E., & Eby, A. (2016). 100% Sustainable: Strategies for 2050 renewable energy, local water, and ecosystem health in Los Angeles. UCLA: Sustainable LA Grand Challenge. Retrieved from https://escholarship.org/uc/item/40j3h69x
Mayne, T., Yi, E., Doyle, R. A, & Eby, A. (2016). 99% PRESERVATION AND 1% DENSIFICATION: A case for 2050 sustainability through a denser, more connected Los Angeles. UCLA: Sustainable LA Grand Challenge. Retrieved from https://escholarship.org/uc/item/4sj6v1rz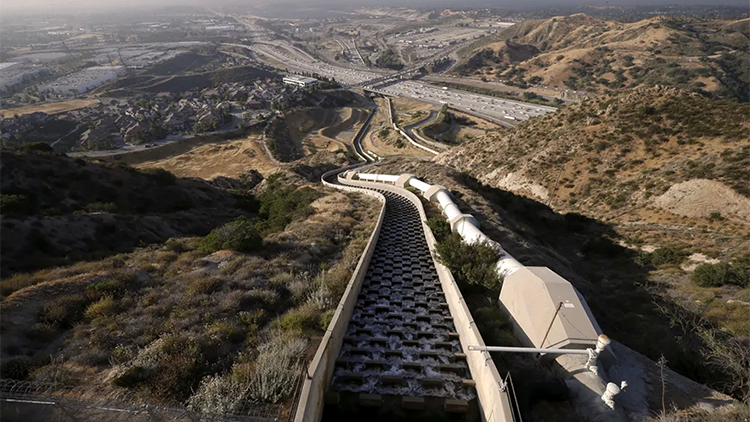 Research Team
Thom Mayne
Architecture & Urban Design, School of the Arts & Architecture
The Now Institute

Eui-Sung Yi
Architecture & Urban Design, School of the Arts & Architecture
The Now Institute

Lily Bakhshi
The Now Institute, UCLA Supra Studio

Cagdas Delen
The Now Institute, UCLA Supra Studio

Ryan A. Doyle
The Now Institute, UCLA Supra Studio

Annie Eby
The Now Institute, UCLA Supra Studio

Julie LeRenard
The Now Institute, UCLA Supra Studio

Beyza Paksoy
The Now Institute, UCLA Supra Studio