The Sustainable LA Grand Challenge (SLAGC) is pleased to formally partner with UCLA's Institute of Transportation Studies (ITS) to pilot the first two-year cycle of this programming, which will thematically focus on Transforming Transportation in Los Angeles.
ITS serves as an ideal partner to launch this programming given its long-standing success in forging partnerships both inside and external to the university and delivering timely and impactful scholarship at the regional, state, national and global levels.
SLAGC and ITS are excited to bring everyone together to identify the most stymying barriers to transforming transportation in the Los Angeles region, and develop a shared vision for what matters most — then start to develop a plan for what we can collectively make progress on together. Please direct any questions by email to TRACtion@ucla.edu.
TRACtion: Transformative Transportation, An Introduction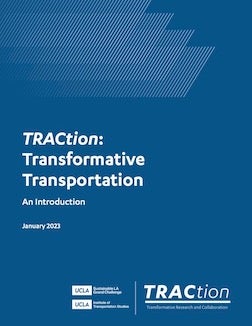 Kickoff Event
9:30 a.m. to 2:30 p.m., Thursday, January 26
Morrison Room (formerly California Room) at UCLA Faculty Club
The keynote speaker was California Transportation Secretary Toks Omishakin, who presented California's vision for a transition to equitable and sustainable integrated transportation land use systems.
At this kickoff event, researchers from UCLA heard perspectives on a just transition for transportation from Los Angeles leaders, community organizers, and advocates. UCLA researchers and those external invitees had an opportunity to connect and discuss mutual interests.
Check back here for future programming annoucements