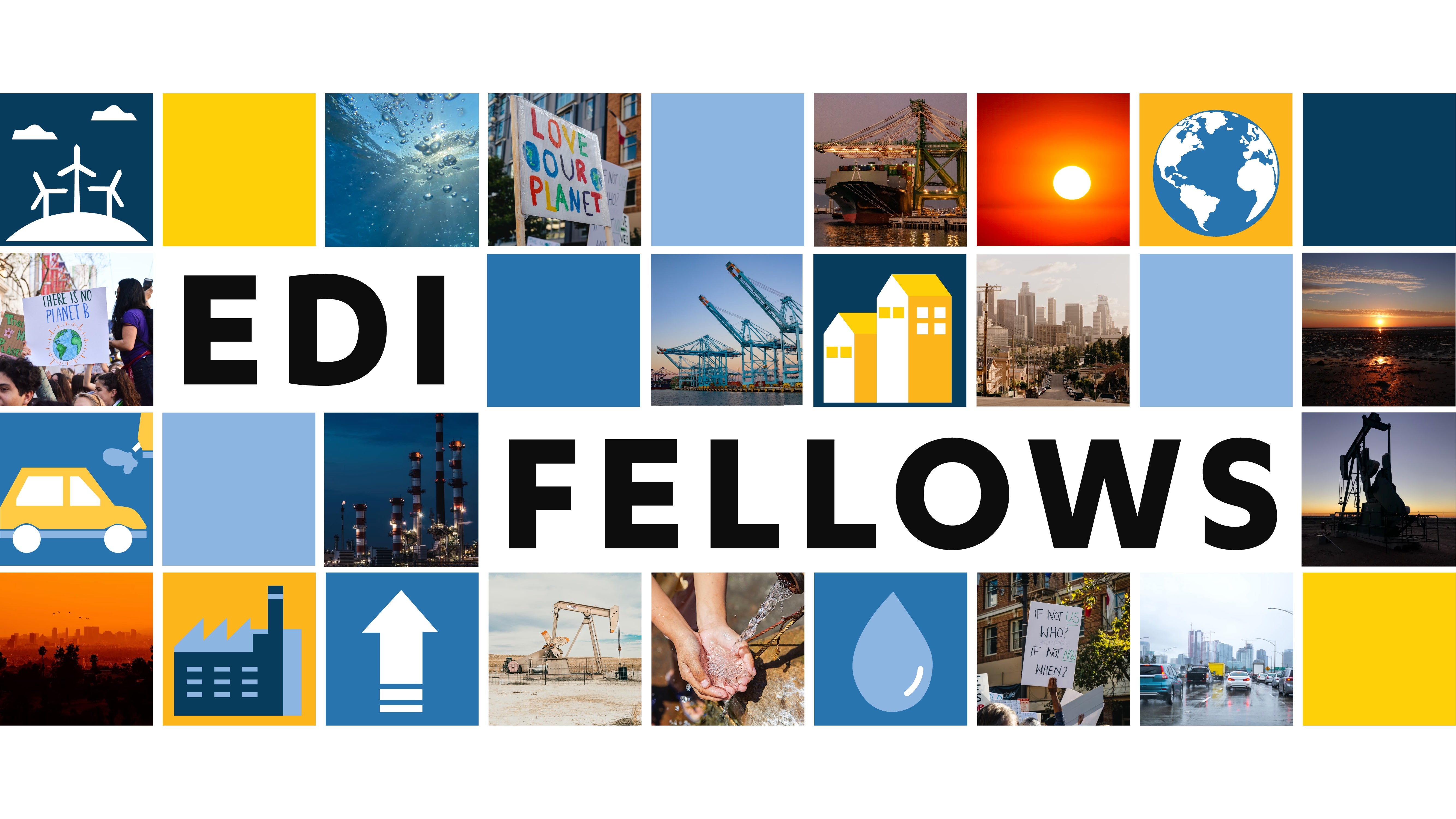 Founded in 2021, the Equity Diversity and Inclusion (EDI) Fellows Program is the signature graduate offering of the Sustainable LA Grand Challenge.
In the backdrop of a tumultuous 2020 that saw life transformed by the COVID-19 pandemic and the murder of George Floyd, the Sustainable LA Grand Challenge committed to placing an even greater emphasis on equity, diversity and inclusion as it relates to the initiative's goals, and sustainability as a whole, because we can and must do better.
With the creation of the EDI Fellows Program, the Sustainable LA Grand Challenge has committed to selecting a passionate, innovative and highly motivated graduate student cohort annually to work with UCLA faculty mentors in collaboration with external partners to discover and co-develop sustainable interventions that center on improving equity, diversity and inclusion in the Los Angeles region.
The EDI Fellows Program is intended to support UCLA graduate students from any discipline. Project ideas may be as diverse as the disciplines from which they come, and ideas ranging from identifying and quantifying equity metrics, to an art piece, mural, play or poem focused on equity in urban sustainability — and everything in between — are welcome.
External partners have included: City of L.A.'s Climate Emergency Mobilization Office, L.A. County Chief Sustainability Office, L.A. Metro (Chief Sustainability Office and Office of Equity & Race), L.A. County Food Equity Roundtable and SAJE (Strategic Actions for a Just Economy).
In the Academic Year 2023-24, thanks to a generous gift, one of these fellowship opportunities will be named the Liquid I.V. Impact EDI Fellowship, which will support a student in water equity scholarship — a guiding priority in our ongoing partnership with Liquid I.V.
Apply Now to the EDI Fellows Program
A History of Working with Graduate Students
The objective of the fellows program has always been to create unique research and educational experiences for UCLA students in partnership with local stakeholders through a variety of novel approaches. In the summer of 2015, the Sustainable LA Grand Challenge awarded its first fellowships to support graduate students and postdoctoral scholars working on projects with real-world application to advance the initiative's goals. 
That year, 10 fellows worked on critical projects ranging from developing a water budget and water balance model for L.A. County, to engaging in an energy balance assessment that could potentially serve as a basis for recommending an optimum energy portfolio for the county. This initial cohort culminated in a symposium at city hall that featured student fellow projects, and ensured that the urban sustainability work was directly communicated to the region's implementors and decision-makers.
Notably, two fellows worked directly with the Los Angeles Mayor's Office of Sustainability on projects related to electric vehicle infrastructure and energy and water usage prediction tools that can inform conservation and retrofit efforts.
From 2015 to 2018, more than 30 fellows engaged in research, worked in the city's sustainability office, or served as interns at the L.A. Cleantech Incubator and its portfolio companies.
The Sustainable LA Grand Challenge also placed and supported 6 fellows and a practicum team in the L.A. Mayor's Office of Sustainability.
Past fellows included one who looked at the impact of urban agriculture on public health and urban food security, and others who evaluated and helped develop the first-ever biodiversity index for the city of Los Angeles that looks at such things as access to green and natural spaces and proximity to parks.
Former graduate students who engaged in this unique research training opportunity through the Sustainable LA Grand Challenge came from a wide range of disciplines including:
Arts and architecture, business, environmental sciences, law, public health, public policy, sociology and urban planning.

Fellows were mentored by faculty specializing in a cross section of disciplines including:
Architecture and urban design, ecology and evolutionary biology, environmental health, environmental sciences, finance, law, physical sciences, operations management, public policy, sociology and urban planning.