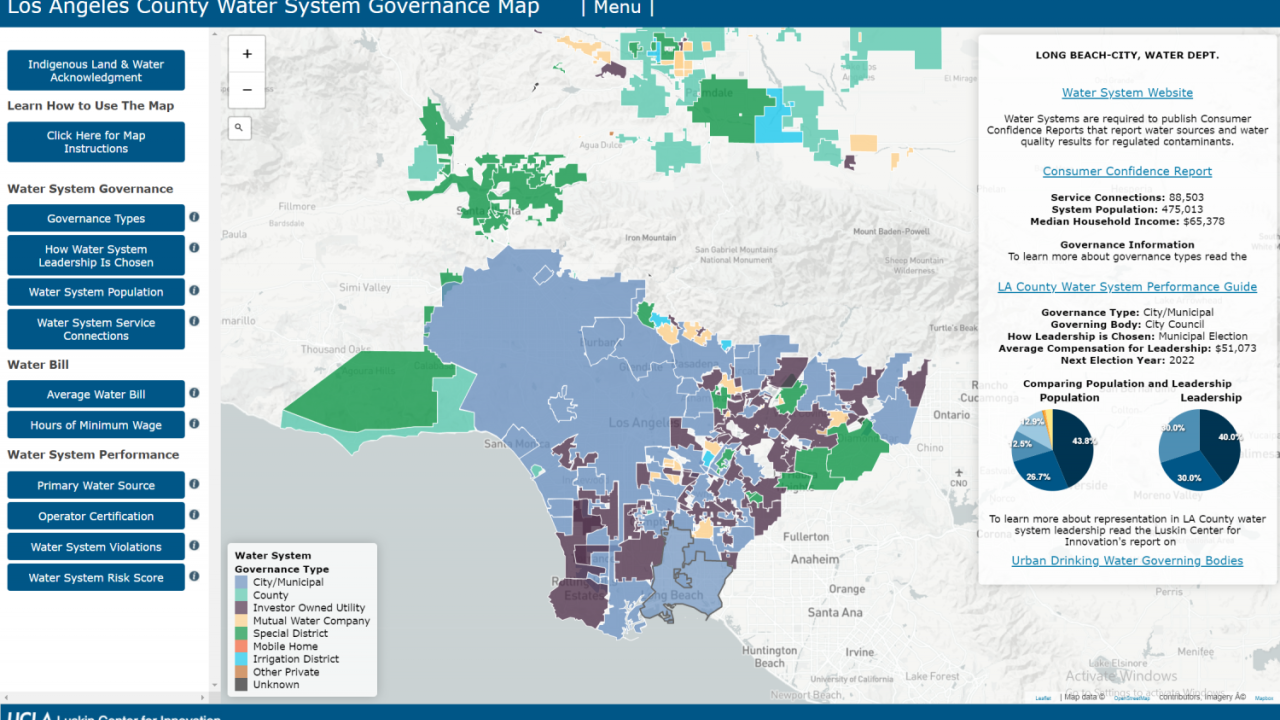 The UCLA Luskin Center for Innovation is launching the new Human Right to Water Solutions Lab. This research initiative is meant to support policy and advocacy, civic engagement and leadership development in order to advance the human right to water across the United States. 
The lab's approach will consist of three primary focus areas. First, is the advancement of fundamental research on water affordability, quality and accessibility. Second, is to make the data from this research more accessible — along with training resources, the lab will make information publicly available, easily usable and relevant. Finally, practical support will be provided to amplify the efforts of community, scholarly and policy partners working to further the Human Right to Water. 
To jump start the initiative, the lab has released the Los Angeles County Water System Governance Mapping Tool. This tool was developed in collaboration with community-based organizations and the Water Foundation. 
Meant to improve the transparency of water access and to empower citizens, the map provides information about the performance of and potential opportunities to democratize L.A. County's current water systems. Users can, for the first time, easily learn information about leading water retailers. Simply by entering in any address, anyone can discover three integral pieces of information: The average cost and relative affordability of water; the safety and quality of water; and the demographics, tenure and pay of individual water retailer board members.  
Learn more about the Human Right to Water Solutions Lab and the Water Governance Mapping Tool at the UCLA Luskin Center for Innovation. 
Image Source: UCLA Luskin Center for Innovation